3 Signs You Need Water Line Repair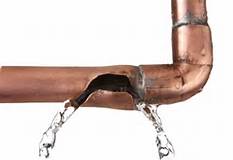 Leaky pipes are a problem that many homeowners contend with every now and then. Home plumbing systems are mostly watertight, but sometimes things happen that cause pipes to burst or crack. Unfortunately, these kinds of leaks can be difficult to detect. It's only after the pipe has burst and water damage has occurred that most people realize there is a problem. When a leak isn't clearly visible, how do you know you need water line repair? Here are three signs that you should call a Laguna Niguel plumber right away.
Higher than Average Water Bills
Are you in the habit of keeping old water bills? If not, you may want to start. Keeping track of water usage is a great way to detect a leaky pipe in its earliest stages. Water bills that are higher than normal that lack any reasonable explanation for the increased usage may indicate there is a leak somewhere in your plumbing system that you can't see.
Walls Are Discolored
Water stains on walls or ceilings are another big indicator that something isn't quite right. Don't just paint the discoloration and call it a day. Instead, call a licensed plumber in Laguna Niguel for water pipe leak detection service. Once discoloration occurs, there is already damage to materials such as drywall and possible the wall studs. Waiting much longer will increase the repair bill exponentially.
Water Pressure Changes
Have you noticed a decrease in water pressure? Before you panic, give your water company a call to find out if they are adjusting something on their end or experiencing problems that could be causing the drop in pressure. If the water company says everything is fine, call a plumber near you. You may have a slab leak or other kind of hidden leak that is causing the pressure changes.
Call a 24 Hour Plumber Right Away
Whenever you notice changes that may indicate a water leak, don't wait to call for help. At Laguna Niguel Plumbing and Rooter Pros, we offer affordable and precise water pipe repair. We respond 24 hours a day in 90 minutes or less so you never have to wait long for the water pipe repair in Laguna Niguel that you need. Call today to learn more about our 100% customer satisfaction guarantee and to schedule an appointment with a plumber near you.